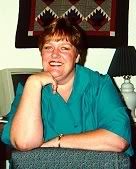 Toni Ann Bachman is a missing mother who has done so much for other mothers and mothers-to-be all across the internet. She started a website called Toni's Angel Pages. It is a pregnancy support page for those women who find it hard to conceive. After five miscarriages she was finally pregnant, but the child who was only conceived 22 weeks prior, Michael George, died in her arms. It is devastating for any mother to read her words which are still on that website. It has been kept as a memorial to her through the years and there is a poignant message from her step-son, how he felt about her kindness and love.
White Bear Lake Township, Minnesota is the place Toni lived with her husband, Norman and his three sons, and her home is the last place she was seen, April 25, 1997. There must have been stresses in the marriage in 1997 as Toni had asked Norman for a divorce and it is reported he was not happy with that news. Toni was reported missing by her mother on May 12, 1997.
According to her husband she left a note saying she was leaving with another man and he says that she called him the next day. There has been no note found and phone records indicate no phone call was made. Norman Bachman was questioned about his wife's habits and when she was last seen. His answers were contradictory and one month after Toni disappeared, officers searched their home. Blood and tissue found in the freezer were determined to belong to Toni Bachman and investigators report that there were patterns indicating someone wiping up the spatters.
Foul play is obviously suspected, but no charges have ever been brought forth. Norman starting dating shortly after Toni vanished and even asked out one of her online friends from the pregnancy support group.
Norman Bachman has had several arrests on charges such as domestic and sexual assault, one incident witnessed by one of his small sons. He was sued for wrongful death by Toni's family although he has never been arrested in connection with her vanishing.
It is distressful that a woman who so wanted to bring life into this world, has been taken out of it in such a tragic way. Toni Ann Bachman's remains have not been found and she is still considered missing.
http://www.startribune.com/local/11553551.html?location_refer=Bios
http://www.charleyproject.org/cases/b/bachman_toni.html
http://members.tripod.com/~skew2bid2/ (a personal site written by Toni)
http://www.geocities.com/Heartland/8242/